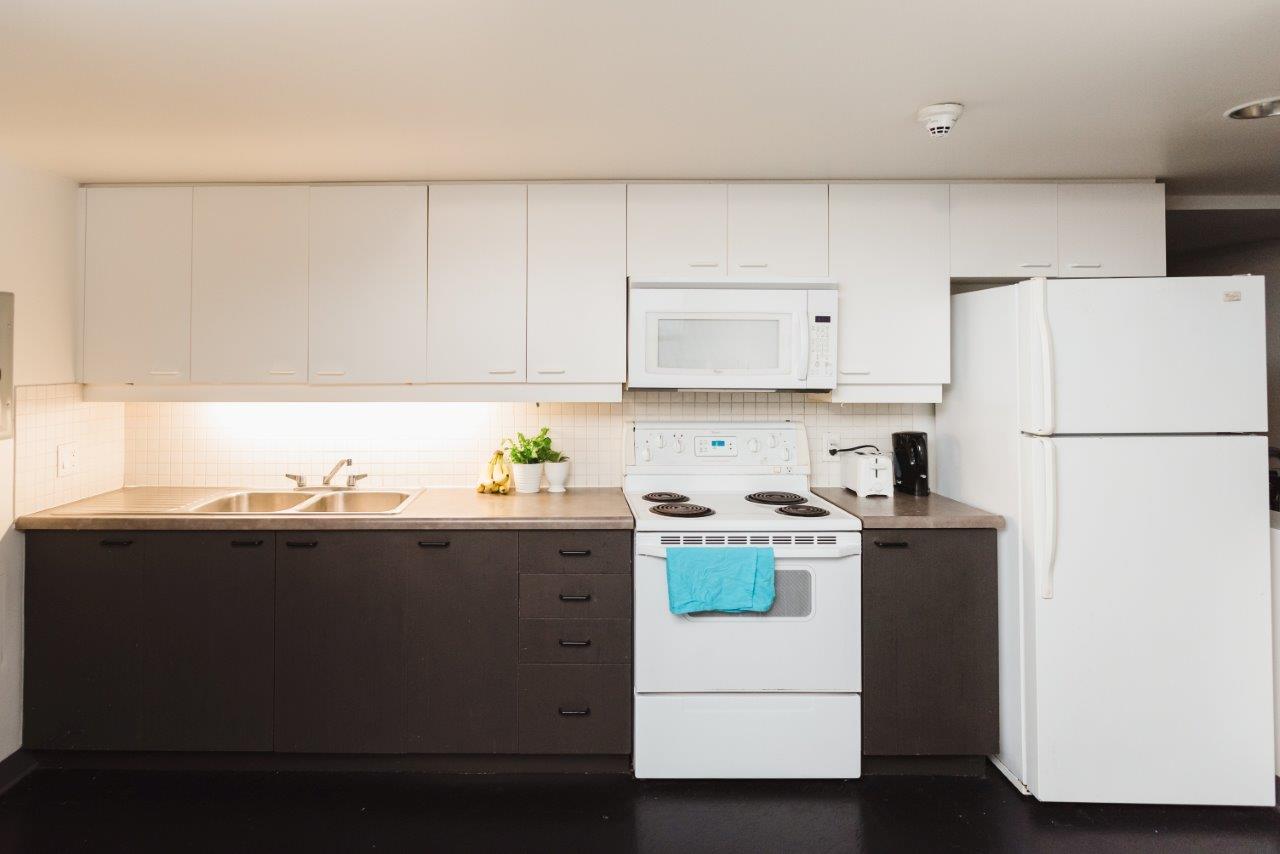 We're sad to see you go, but Graduate House isn't a forever home so congrats on moving forward! There are a few things you should know about moving out before you start packing your bags.
These move-out instructions are intended to make the process of moving out fair and transparent. You are expected to leave your room and suite in a clean condition, ready for the next person to move in! Although normal wear and tear is expected, you must nonetheless leave your suite fully cleaned and tidy.
Step 1: Giving Notice
As per your Occupancy Agreement, you are required to give a minimum of two full month's written notice of your intention to leave Graduate House.  Please note: You can select a move-out date that falls any time during the month. For example, if you're planning on moving out of Graduate House on May 18th, then you should notify the Graduate House Office on or before March 18th. To do so, please complete an online Early Withdrawal Form on the StarRez portal: 
Log on to the StarRez portal 
Click on 'Manage my housing' 
Click on 'Select' beside the current booking 
Click on the drop-down menu and select the 'Early Withdrawal Form' option, then click 'Continue' 
Read the Early Withdrawal Form, and provide all the required information
Mail forwarding: Unfortunately, Canada Post will not forward mail from any student residence under any circumstances. For this reason, we cannot forward your mail to your new address.
Step 2: Booking Optional Pre-Move-Out Inspection
In addition to submitting an Official Notice Form, you may wish to schedule a Pre-move-out Inspection. The Pre-Move-Out Inspection is entirely voluntary. Its purpose is to identify any obvious damages as well as to advise the resident about how to avoid extra cleaning charges, etc. Booking a pre-move-out inspection is easily done by sending an email request to maintenance.gradhouse@utoronto.ca. Once you have scheduled an inspection, you will be sent a confirmation e-mail with the date/time and helpful information as to how to prepare. If you and your suitemates are moving out around the same time, we would appreciate it if you could co-ordinate your schedules. This optional inspection occurs during regular business hours and if the resident attends.
Step 3: Getting Ready for Move-Out Inspection
Please be aware that once you have moved out, Graduate House will discard any and all articles remaining in your room, bathroom, kitchen, storage closet, and/or other areas of your suite (other than the furnishings and fixtures that came with the room of course!). We strongly suggest that you perform your own thorough room and suite inspection to look for forgotten articles. You will be charged a minimum flat rate of $25 per filled garbage bag for the removal of any items that you leave behind (e.g. coat hangers, thesis drafts, dirty socks, stale potato chips, etc.) plus extra time required to clean your room.
Here's what you'll need to do in your room and suite before you move out:
Your Room
Once you have packed all your belongings, vacuum your bedroom carpet.
Clean your desk and bookshelf with a damp cloth to remove dirt and dust (do not use an abrasive cleaner like Comet; a bit of all-purpose cleaner diluted in water will do the trick).
Do not attempt to dust the blinds in your room or living room; we will take care of that.
Please ensure that your white mattress cover is clean when you leave Graduate House. Washing it yourself in the laundry room will cost you $3, getting it dry cleaned will cost approximately $7 (the closest dry cleaners by the way is located at Bloor and Spadina) whereas Graduate House charges a$32 replacement fee if your cover is stained or discoloured. While this may seem costly, consider how you would feel if you had moved into a room with a soiled mattress cover!
When you are finished with your room, close the door and ensure it is locked; this ensures it remains in the condition you left it when we inspect it for damages.
The Suite
Vacuum the floors, then mop with warm water mixed with all-purpose cleaner. Follow the label instructions to determine the ratio of cleaning product to water for best results.
Clean the bathrooms, paying special attention to the toilet and the toilet base. Please do not use an abrasive cleaner (e.g. Comet) on the bathtub; this could damage the no-slip strips. To get the tiles looking their best, a bathroom cleanser designed to remove built-up calcium deposits, and with mold/mildew inhibiting-properties, is ideal.
Please also clean the kitchen counters, stovetop, inside the [self-cleaning] oven, inside of the microwave, and refrigerator. Scrub and rinse the kitchen sink, and remove any obvious debris from the drain-catch. Wipe the cupboards, inside and out. Avoid using abrasive cleaners; an all-purpose liquid cleanser (diluted in warm/hot water) will work nicely.
Step 4: The Pre-Move-Out Inspection
The Pre-Move-Out Inspection is entirely voluntary. Its purpose is to identify any obvious damages as well as to give the resident a heads-up as to how to best prepare for move out and avoid extra cleaning charges, etc. It is necessary for you to be present for this inspection. If you are unable to be present, it will not happen.
The inspecting Graduate House Representative will attempt to answer any questions that you may have. However, please be advised that we do not give estimates as to the possible cost of repairs—costs are determined by the contractors and repair staff who actually do the work.
Once the inspection is over, you will be asked to sign the Pre-Move-Out Inspection Form. Please note that by signing this form you are not accepting responsibility for any damages; you are merely acknowledging that the Graduate House representative pointed them out to you. A copy of this form is available upon request.
The Pre-Move-Out Inspection is not the final word on damages. Residents can still be held responsible for any damage caused after the inspection was conducted, as well as for damage that was not visible during the inspection, or that was deliberately disguised or hidden.
Step 5: Damages & Deficiencies
The cost of all damages and/or deficiencies will be posted to your ACORN account. If the damage is in the common areas of your suite, the cost will be shared among the suitemates (unless one person comes forward and assumes full responsibility for the damage). You should check your ACORN account on-line in the weeks following your move. At times of year when there are large numbers of move-outs / move-ins (August, September, April, May), processing of move-out inspection forms and damage assessments can take up to 6 weeks.
Please be advised that any damage charges will be placed on your ACORN account shortly after notification is sent to you.
Damage charges for Non U of T students will be deducted from their damage deposit.
Damage charges represent the standard rate for a particular type of repair, based on charges to us by U of T Facilities & Services. Should the final cost be a different amount, we will contact you and adjust the charge.
Step 6: Leaving Graduate House
To facilitate your move-out, the Graduate House Office can provide you with a trolley/moving cart during regular office hours. We do ask that you return the carts promptly once you are done since other residents may also need them.
If you are leaving Graduate House during office hours, simply hand in all of your keys (e.g. fob, laundry card, and mailbox key) by 3:00 p.m. to the front desk. We ask that you put your collection of keys in a sealed envelope clearly indicating your full name, suite and room number on it. Unfortunately, Graduate House is unable to refund any extra money left on your laundry card so try to use up your balance.
If you are leaving outside of office hours, including over the weekend, please put your keys/cards in an envelope with your full name and your room number written on it ans place it in the Drop Box in the lobby. Please make sure that you close your bedroom door behind you when you leave.
If you return any keys after 3:00 p.m. on your vacating date, you will automatically be charged for non-returned keys as outlined in your signed copy of your Graduate House Occupancy Agreement. Keys/cards/plastic holders, etc. cannot be mailed in/returned at a later date for a refund.
Step 7: Room Assessment
After your room and suite are inspected and your keys have been collected, the Facilities Supervisor will assess the condition of your room and suite to determine whether any damage charges should be placed on your Student Account. Any charges are recorded on the Damage Assessment Form.
Before assigning responsibility for damages, Graduate House will pay very close attention to the results of previous move-out inspections, as well as the resident's own Schedule A/Room Inventory Form?.
As Graduate House receives no monies or subsidies (either direct or indirect) from the University of Toronto and 100% of its operating costs are paid for by residents' occupancy fees, we have a dual obligation both to keep occupancy fee increases as low as possible, and to ensure that the actions of the individual or the few are not paid for by the many.
Residents are held responsible for any damage charges that result from their own actions (and those of their guests), or the actions of their suite (if it is not possible to establish individual responsibility) as provided for in the Occupancy Agreement.
Graduate House can provide a complete breakdown of any damage charges assessed and, wherever possible, any/all supporting invoices.
Appeals of Damage Charges
Residents have the right to appeal damage charges. Those wishing to do so must submit an appeal in writing, within 30 days of receiving notification of a damage charge.
Damage appeals should be submitted to the Manager of Finance, Operations and Administration, who completes appeal, including the review for completeness and documentation from the Facilities Supervisor.
Residents considering an appeal of damage charges should bear in mind that supporting documentation greatly increases the likelihood of a successful appeal. Appeals consisting of a simple denial of committing damage, without any supporting written documentation, are generally unsuccessful.
An appeal may be denied when there is insufficient documentation on the condition of the room; therefore, it is important to document the condition of your room and suite in two ways:
When you first move in, carefully review the condition of your suite and room, and submit a completed inventory form to the Graduate House Office within one week of your arrival. If you fail to submit your inventory form document within one week of moving in, all aspects of your suite and room are deemed to have been in good condition and good working order at the start of your occupancy.


When you are preparing to move out, arrange a Pre-Move-Out Inspection, during which a member of the Graduate House facilities staff will meet you in your suite to assess its condition and advise of any obvious deficiencies observed at that time. Documentation of your Pre-Move-Out Inspection is a helpful addition to your Schedule A document for establishing the condition of your room and suite, particularly the common areas which may continue to be used by non-departing suitemates after you move out.
You will be notified (by email) of the outcome of your appeal within 30 days after submission. If your appeal is successful, the notification will include details about the adjustment or reversal of damage charges applied to your student account (or, in the case of non-UofT summer residents, arrangements for a refund payment for adjusted or reversed charges).